Rudder 7.0 release notes
Rudder 7.0 is currently a maintained version.
Rudder 7 will be supported for at least three months after next major release, and for 18 to 24 months with a subscription.
A redesigned technique editor, more flexible, especially on the reporting and compliance side.

A dedicated configuration DSL for Rudder, with a transpiler to compile it into configuration code for our supported agents.

A new visual identity, including a new logo and new colors.
As a major release, 7.0 also comes with improvements in Rudder core architecture, to improve reliability and performance and prepare the ground for future exiting features.
New visual identity
Rudder 7.0 adopts our new visual identify. New colors and a new logo refreshing the previous design.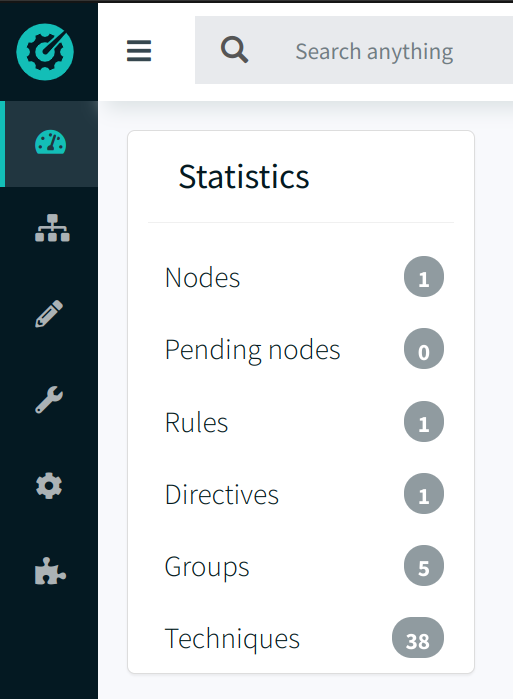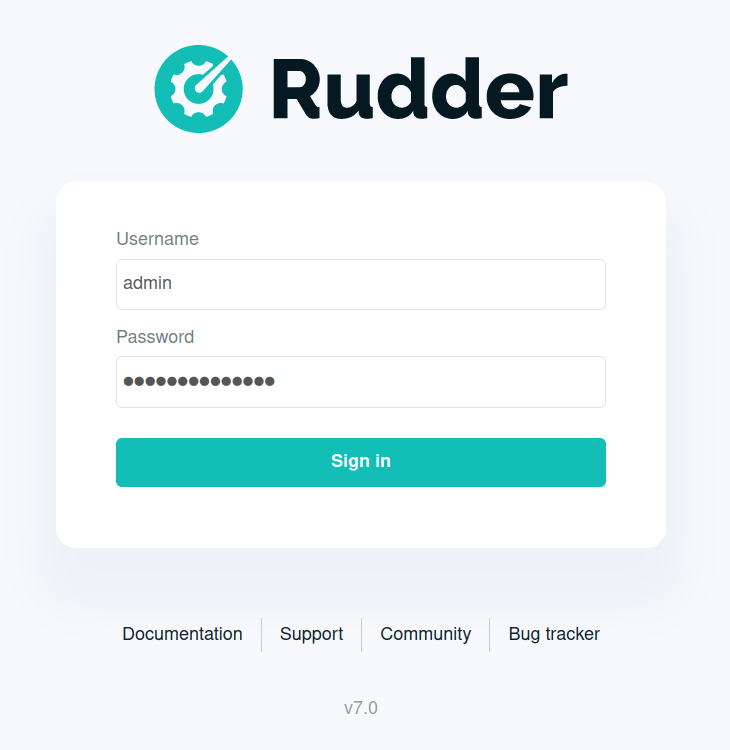 Setup guide on first connection
On first connection, the first admin user will now be guided by a setup wizard, allowing to configure the Rudder account directly.

Under the hood
These items are not always directly visible from the users, but help us keep Rudder reliable and extensible.
Configure script for the agent
We added a configure script for the agent build. This makes it more flexible (compared to our previous static Makefile) and adding support for new platforms becomes a lot easier.
We also improved our C hardening flags on modern compilers with fstack-protector-strong and D_FORTIFY_SOURCE=2 when possible, in addition to existing full relro and pie.
Frontend continues to transition to Elm
Elm has been our language of choice for frontend work for its great reliability and maintainability for a few years, and the transition is continuing with the technique editor rewrite (from AngularJS) and the new rules page.
rudder-relayd updated to tokio 1.0
rudder-relayd, the component handling communications with agents on server and relays is written in Rust and more precisely based on tokio, a fast and reliable asynchronous runtime. It has been migrated from tokio 0.1 to the 1.0 version, which comes with the (not so) Rust async/await syntax. It provides better development experience, better performance (with a new scheduler), and long-term maintenance of the library for 5 years minimum.
More efficient compliance computations
Compliance computations and display has been made more efficient, by using caches for both computed compliance and expected reports. It lowers the number of expensive database queries, and makes compliance computations much faster.
relayd also now handles more steps of reports handling, which is possible thanks to the syslog reporting removal. This lowers the load on the webapp and database and makes the whole process more efficient.
Improved Continuous Integration
Our code tests, which all run on our Jenkins server also responsible for building our packages, were migrated from manually configured jobs to Jenkinsfile code (for example in the main rudder repository). This allows defining the tests along with the code, and eases jobs maintenance across branches.
Tests are now all run automatically on every pull requests (except for heavy multi-platform tests which only run daily on maintained branches).

In addition we improved our test suite in most repositories, with linters for various ecosystems (shellcheck, pylint, etc.), and added automated checks for known vulnerabilities in our dependencies across various ecosystems. Most tests now run in Docker containers defined by Dockerfiles in the repositories, allowing for more consistent and reproducible test environments.
Refactored server system techniques
Server system techniques are the part of system techniques that handle configuration and management of the server components (webapp, relayd, ldap server, etc.). We did a major refactoring of these techniques, which have been split in separate techniques for each configured service, for improved reliability and maintainability.
Installing, upgrading and testing
Supported operating systems
This version provides packages for these operating systems:
Rudder server and Rudder relay: Debian 10-11, RHEL/CentOS/Alma/Rocky 8, SLES 15, Ubuntu 18.04 LTS and 20.04 LTS

Rudder agent: all of the above plus Debian 9, RHEL/CentOS 7, SLES 12

Rudder agent (binary packages available with a subscription) : Debian 5-8, RHEL/CentOS 3-6, SLES 10-11, Ubuntu 10.04 LTS-12.04 13.04-15.10 LTS-14.04 LTS-16.04, Windows Server 2008R2-2019, AIX 5-6-7, Solaris 10 & 11, Slackware 14
Main changelogs →